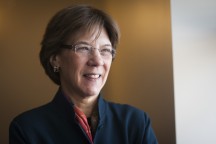 Mary R. Jeka, a member of President Anthony P. Monaco's senior leadership team, has responsibility for all communications, government & community relations, the Office of University Counsel and the Office of Equal Opportunity. Ms. Jeka reorganized each of the departments in University Relations to maximize the quality and cost effectiveness of the services.
Prior to coming to Tufts, Ms. Jeka was a principal aide and General Counsel to the late Senator Edward M. Kennedy, (D-Mass) for over ten years. She worked with Senator Kennedy on appropriations, education, environmental, transportation and health care issues and became General Counsel of the Senate Labor and Human Resources Committee. She returned to Massachusetts in 1992 to serve as General Counsel for the Massachusetts Water Resources Authority (MWRA) with primary responsibility for managing the legal affairs and government relations in Washington D.C. She also served as General Counsel for the Massachusetts Health and Educational Facilities Authority (HEFA). In June 2003, Ms. Jeka was appointed Vice President for University Relations at Tufts University in June 2003 and in November 2011 was promoted to Senior Vice President for University Relations and General Counsel
A resident of Somerville, Massachusetts, Ms. Jeka serves on the boards of the Crittenton Women's Union. She earned her J.D. from Boston College Law School in 1983 and her B.A. in political science cum laude from Boston College in 1976. She is admitted to practice law in Massachusetts.
Contact:
Mary.Jeka@Tufts.edu
617.627.4220